In K3 Visa USA Spouses of U.S. Citizens and the Spouse's children can come to the US on non-immigrant visas K-3 and K-4 and stay in the US to complete the immigration process. The parent must have a K-3 visa or be in K-3 Status before issuance of K-4 visa to a child.
A spouse is a legally married husband or wife. Cohabiting partners do not qualify as spouses for immigration purposes of United States. Common-law spouses may qualify as spouses for USA immigration purposes depending on the laws of the country where the common-law marriage taken place. In cases of polygamy only the first spouse qualifies as a spouse for USA immigration law does not allow polygamy.
In cases of legal marriage to two or more spouses at the same time or marriages overlapping (K-3 visa divorce) for a period of time and you may file only for the first spouse.
K-3 VISA STEPS
For K-3 visa you must first file an immigrant Petition for Alien Relative.Fill the Form I-130 for your spouse and submit to the USCIS Office nearest to your living area. The USCIS will send you a Notice of Action Form I-797 as acknowledged receipt of your petition.
The next file Petition for Alien Fiancé(e) required form I-129F for your spouse and children.You need to Send the I-129F petition along with supporting documents and a copy of the Form I-797 acknowledged receipt of your petition to Department of Homeland Security USCIS Address on their web site.
K-3 VISA PROCESSING TIME
K-3 visa time line depends on the the approval of the your petition from USCIS and other factors.Once, the USCIS approves your petition on I-129F then it sends this to the National Visa Center (NVC). The NVC sends the petition electronically to the Embassy or Consulate in the country where the marriage occurred. If your marriage took place in the United States then NVC sends the petition to the Embassy or consulate that issues visas in the country of your spouse's Nationality.

If your marriage occurs where American embassy not found or the embassy does not issue visas then NVC sends the petition to the embassy or consulate that normally processes visas for citizens of that country and
K-3 visa how long
time will be taken depends on that country Embassy or consulate. For example, if the marriage took place in Iran where the United States does not have an embassy then petition would be sent to Turkey.
K-3 VISA REQUIREMENTS
The major thing in K-3 visa is that the spouse of an American citizen will apply for a K-3 visa in the country where marriage took place.The embassy or consulate will let you know any additional things. (i.e Medical Examination,Marriage Photographs,or other proof that the marriage is genuine). During the K-3 visa interview process digital fingerprint scan will be taken. The following documents are required:
Two copies of form

DS-156

, Non-immigrant Visa Application.

One DS-156K, Non-immigrant Fiancé(e) Visa Application form

Police Certificates from all places lived in since the age of 16

Birth Certificates

Marriage Certificate for Spouse

Death and divorce certificates from any previous spouses

Medical examination (except vaccinations)

A passport valid for travel to the United States and with a validity date at least six months beyond the applicant's intended period of stay in the United States (unless country-specific agreements provide exemptions).

Two non-immigrant visa photos, two inches/50 X 50 mm square, showing full face, against a light background)

Proof of Financial support (Form I-134 Affidavit of Support may be requested.)

Payment of fees.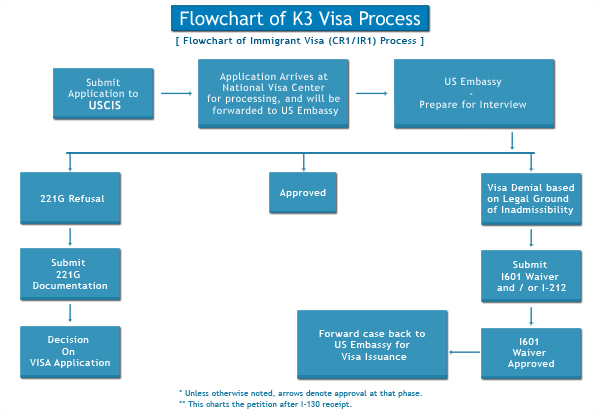 K-3 VISA FEES OR K-3 VISA COST
K-3 Visa Fees are charged for the following services:
Filing an immigrant Petition for Alien Relative, Form I-130
Applying for a non-immigrant visa application processing fee, DS-156

Medical examination (costs vary from post to post)

Finger printing fees.(if required)

Filing Form I-485, Application to Register Permanent Residence or K-3 visa adjustment of Status
Other costs may include translation and photocopying charges, fees for getting the documents required for the K-3 visa application (i.e passport, police certificates and birth certificates etc.) and travel expenses to the embassy or consulate for an interview. Costs vary from country to country and case to case.